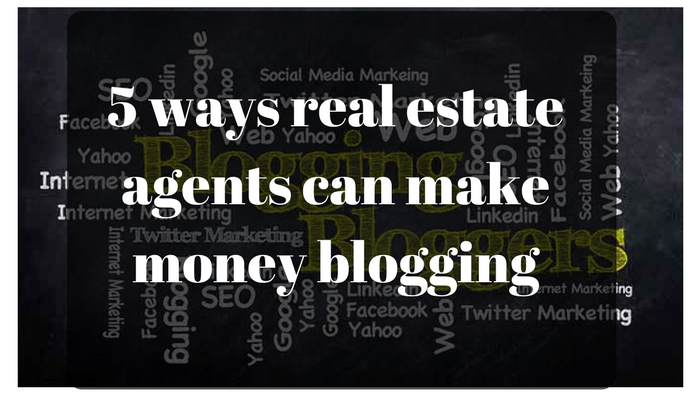 Many people blog for a living, but the question is: how can real estate agents make money blogging? You are not an affiliate marketer. Also, we don't think you will want to put up ads on your website to generate some revenue. So does a real estate agent make money by selling homes through his or her website?
It's quite obvious that properties can't be sold online like ecommerce products. You can only advertise them online. Buyers and sellers have to go through a maze of formalities to complete a real estate transaction. Even if someone is buying from overseas and can't be physically present to close a deal, he or she will have to hire a real estate agent or a lawyer for representation. So as a real estate agent you don't make money blogging directly, but it can help you make a lot of money. Here is how:
Blogging increases brand awareness
Blogging is one of the best tools for increasing brand awareness for any kind of business. Real estate isn't an exception. You can use your blog to make important announcements, discounts, and offers. You can educate your prospects about home buying and selling process. They will keep coming back to your website for more information if you have a solid content marketing strategy in place.  If people are aware of your brand, it will be the first that will cross their mind whenever they want to buy or sell a home.
Blogging establishes you as an expert
Blogging is a platform where you can showcase your expertise about the community, city or area you serve. By regularly reporting the latest property markets trends, you can establish yourself as an expert. People will trust you more because they'll trust you on the matters like where they should buy, how much equity they would be able to build by buying in a particular area, how to price a home etc.
Blogging helps you capture more leads
Blogging is a great inbound marketing tool. If you blog consistently, people will come to you with questions and for advice. These inquisitive prospects will turn into leads and customers.
Blogging helps you rank higher in search engines
If you blog consistently, your website will start ranking higher in search engine results. You will get more and more organic traffic and this traffic will help you capture leads.
In order to take maximum advantage of search engine optimization (SEO), you should perform keyword research and include keywords in your blogs the right way.
Blogging can help you market properties
You may have used many marketing tricks including professional photography, virtual tours, staging, and online listing, to sell properties faster. You can use your blogs also as a marketing tool. You should write on topics like
10 cheapest homes to buy
3 best homes for millennials to buy
5 homeowner associations that allow pets
3 properties with
Include the location of these properties in the title. Instead of mentioning a city or state, narrow the location down to a particular community or neighborhood in your area.
Such blog posts will hook your readers instantly. If you have listed a property that can be included in this type of blog post, go ahead and do it. You will get more enquiries that you will generally receive by simply listing the property on MLS.