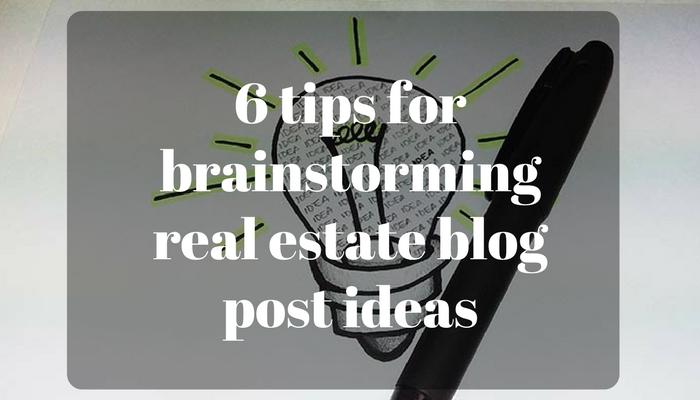 Many real estate agents want to leverage benefits of content marketing, but one of the biggest obstacles before them is to come up with content ideas that their audience will like to read, share and engage with. In order to make sure that your prospects find your content interesting, you have to brainstorm real estate blogging ideas. There are some proven brainstorming strategies you can use to achieve this:
Fill in the gaps on Google
Google is your best friend to help you find great blog post ideas. If you have a vague idea of a topic, you should google it and find out how other websites have turned it into a high ranking blog post. You should go through all these blog posts and find information gaps which you can fill and make your content on the same topic stand out.
Type the first words of a query into Google Search to see the suggested phrases that come up. These are 'suggestions' from Google and it shows that people are searching for information using these phrases.
Alternatively, you can scroll down to the bottom of a Google search result page for a topic. You will find search phrases under 'Searches related to Google Suggest'.
Look for trending topics in real estate niche on social media
Keep a tab on trending topics on Twitter and Facebook. If you think a topic can be useful for your audience, you should add your own opinion and turn it into a detailed blog post.
Alternatively, you can browse through all the stories related to a topic appearing in Google News and come up with blog post ideas. You can also set up Google Alerts for particular so that whenever some prominent site (approved by Google News) writes something on that topic, you will get a notification in your inbox. Google Trends is another great source you can use.
Use keyword tools
You must have some keywords in your mind that your prospects are using to search content in search engines. You can use tools like Google's Keyword Planner Tool' and type keyword phrases to come up with blog posts ideas. You will get information like 'average monthly searches' for a particular topic. It will give you an idea of how popular a particular search phrase is. You can use that phrase as a blog post idea.
Keep a tab on your competitors
Find out what type of content your competitors are producing and how successful they are in their content marketing efforts. You can emulate their content marketing strategy in the beginning until you craft your own style and tone.
Turn your clients' questions into blog posts
You will come across some questions that are frequently asked by your clients. You can use these questions as topics for writing informative blog posts.
Keep in mind that you are blogging to connect with your prospects. It takes hard work to find rich blog topics, but if you prove to visitors that your site is a worthwhile place to spend time, they will trust you and do business with you.