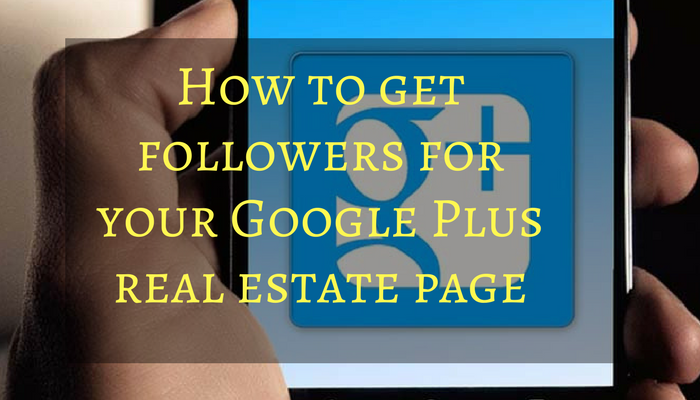 Most real estate agents use Facebook, Instagram and Twitter, but they don't even give a thought to other social media networks. One social media channel that every agent should use other than the three is Google Plus. It not only helps reach more people, but also improves SEO because it is a product of Google itself. It is widely believed that content shared on Google Plus is indexed faster in Google searches.
Whether you are new to the platform or you are already using it, but struggling to get traction, here are a few tips on how to get followers for your Google Plus real estate page:
Create both personal and business profiles on Google Plus
You should use both your personal profile and business page in tandem, as this will allow you to improve your personal and business brands. You probably already know real estate agents can drive more leads by connecting with people on a personal level. While you have restrictions on the number of people who can be friends with you on Facebook personal profile, there is no limit to the number of people who can be in your circle on Google Plus.
Post valuable content
Google plus can be used as a micro-blogging platform. You should regularly update your page with unique and valuable content. Make the content visually appealing by sharing photographs and video. You can post guides on buying and selling real estate and interesting facts or events in your community. You can also answer questions frequently asked by your prospects.
Engage with people in your community
Comment on and Plus One other people's content to engage with the community. Apart from posting regular updates, useful links, or images, you need to engage with users on one-to-one basis. You can use your personal profile to do the networking and outreach. That will benefit your business page indirectly, since the more you can manage to get into the circles of other people, the more exposure you will get for your business page, by sharing your business posts.
Keep a tab on 'What's Hot'
You should keep a tab on what's trending on Google Plus and try to figure out if any of the trending topics may be relevant to your audience. You should add your opinion on the issue and share it with people in your circle. Encourage them to join the discussion even if they have a different point of view.
Other useful tips
You can use 'search' functionality on Google Plus to find people you should connect with. Google Plus can be a great platform to do networking with influencers in your industry.
You should know about notification triggers, but you will have to use them wisely so that you don't annoy others.
You can use 'Hangouts On Air' to connect with your prospects in real time.
If you are organizing an event, you should post them on Google Plus and invite your followers
Use Google Plus share button on all the content you share on your website.
You should also join communities on Google Plus.
These were some of the tips you can use to grow followers for your Google Plus page.