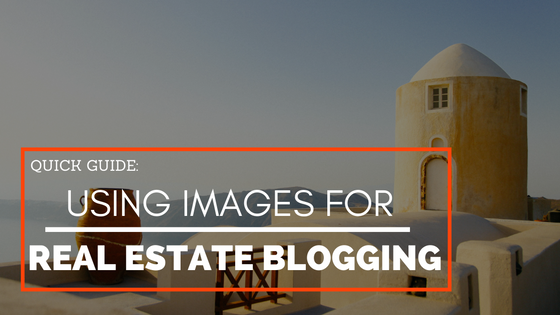 We all know the saying: pictures are worth a thousand words. This saying is especially true in the highly visual real estate industry.
As a real estate agent, it is imperative that your blog uses images regularly. The benefits associated with using images within a real estate blog include:
Images add an interesting and relevant visual that breaks up the sea of text in your blog posts
Images within a blog post attracts attention and piques your audience's interest even before they read any text
Images tend to hold people's attention while they read your blog post
Images help to strengthen or enhance a point, argument, fact, opinion or statement within your blog post
Nevertheless, not all real estate agents are using images in their blog posts, despite the numerous benefits associated with it. On the other hand, those agents who are using images in their blog posts are using it all wrong.
There are different types of images that you can use along with your blog post which will immediately boost engagement. Outlined below are five (5) of the most common:
Custom Images
These are images designed by graphic designers that you can use to accompany your blog post. A custom image usually has the title of the blog post written inside (like the image that comes with this post). One of the main benefits of using a custom image is because of its originality. There's very little chance that someone has designed the image before, giving you more credibility.
Screenshot Images
One of the best ways to provide actual proof in a blog post is to add screenshot images supporting your claim. Most of the time, these type of images does all the convincing for you. A screenshot could also be used to convey an idea that might have otherwise been difficult to depict or explain.
Stock Images
These are professionally taken images by professional photographers that can enhance your blog post's overall appeal and adds an air of professionalism to your website. It must be noted that most stock images are not free. Instead, they are purchased and sold on a royalty-free basis and can be used and reused for commercial design purposes.
Charts, Graphs and Infographics
If you find yourself writing blog articles that deal with statistics, analysis etc, then you should consider adding any of the following type of images; charts, graphs or infographics. The latter; information graphics (aka infographic) helps you provide complex information in a simple to understand format that can be easily shared on social media.
Visual Quotes
Another highly sharable type of image you can use in your blog post. Visual quotes are simply picture quotes that you can embed into your blog post to highlight a key phrase or sentence that you want your readers to remember. Starting a blog post with a good quote can be powerful way to pull someone into your content and by using a picture quote; you can increase the virality of your post because people love to share quotes.
Now that you know the importance of having images on your blog and you know the types of images available for you to use, the next step is actually getting the images. Googling for images might seem like a good idea, but sometimes, some of these images are copyrighted and it would be illegal to use them.
Having said that; here is a list of free resources where you can get high quality images for your blog.
quozio.com:

 A simple picture quote maker, with 28 templates.

curatedquotes.com:

 Beautifully designed picture quotes free to use with citation.
In conclusion, regardless of how good your content is, you need images to enhance it and bring it to life. Need help to create the perfect content marketing strategy for your real estate blog? Contact us today for a free consultation. We'd be happy to help.